Lidl's new 'Big On Quality For All campaign is a VFX feast
'Big On Quality For All' is Lidl's ode to the entire nation. It's a generation-spanning, feel good, dynamic depiction of the every-day, with a sense of community at its heart. Conceived by Karmarama and directed by Andrew Gaynord through MindsEye, the ad takes the viewer on a whistle-stop tour of an archetypal town, dipping in and out of the private lives of the British public. The resulting vignettes are often humorous, sometimes mundane – but always relatable.
From BBQs, to dinner parties, to first time parents squabbling over the nappy change, the ad is an honest, bold and energetic offering, garnished with mouth-watering food, award-winning products and - of course – Lidl's iconic middle aisle magic. Post-production studio Absolute brought some magic of their own, supporting the narrative with seamless whoosh, swoop and push transitions as well as creating an entire town from scratch.
Visual Effects Supervisor, Ben Robards, comments, "Given the concept of a fly's eye journey from ground-level close-ups to wide aerial panoramas, the obvious production choice was to use drone photography, which would have made for a far easier life in post. However, it rapidly became clear that permits to shoot the kind of footage we wanted were not going to be granted in such residential areas.
"So, what was to be done? The answer was to build the entire town in CG. This mammoth task was made all the more challenging by the requirement for seamless transitions into live-action plates. Fortunately, we had the help and patience of a great crew who allowed us to collect the vast amount of photogrammetry and Lidar data we needed in order to make the journey for both our artists – as well as the final viewer - as smooth as possible."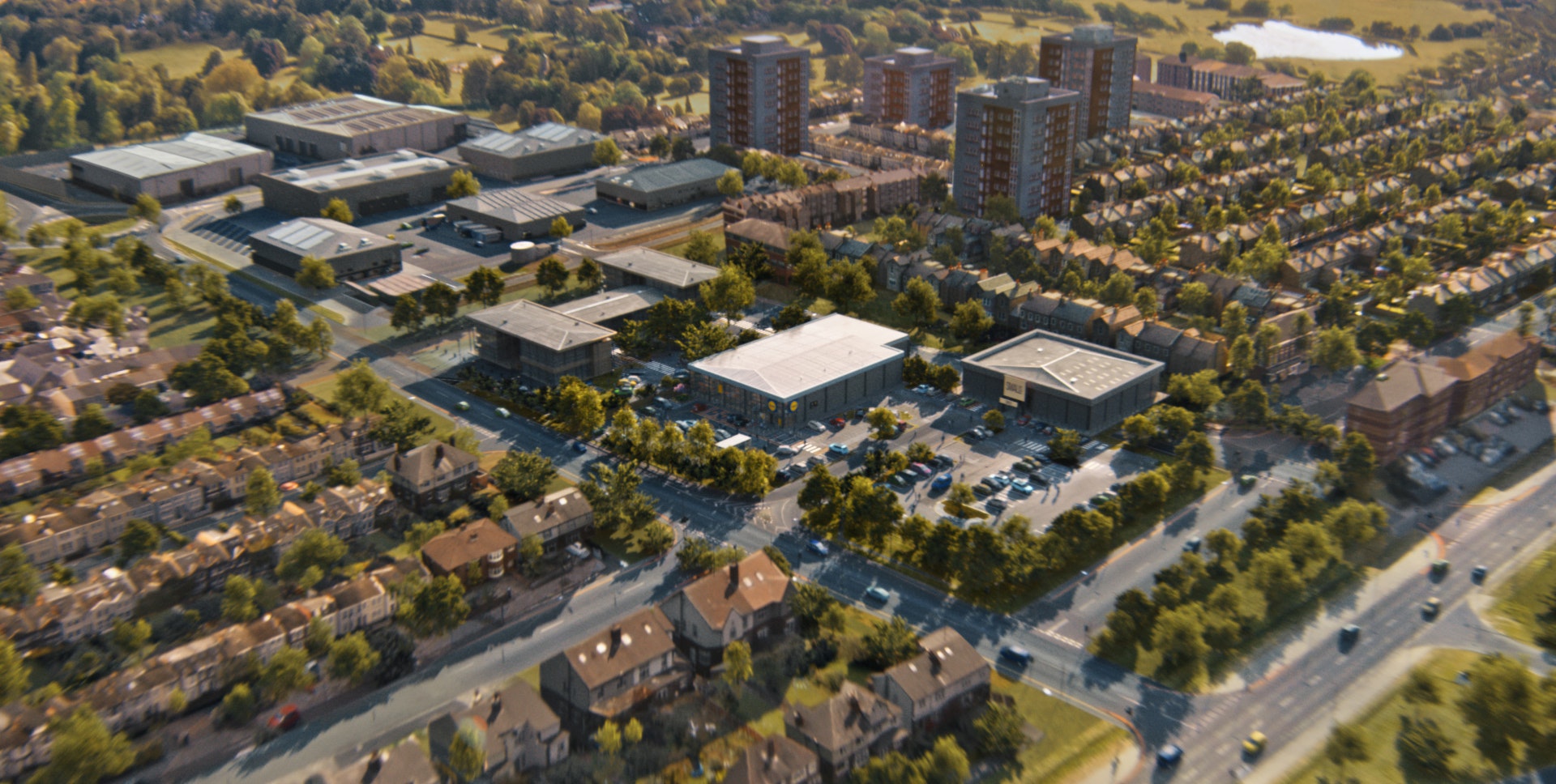 Early in pre-production, Absolute produced concept art and a full 40sec pre-vis to demonstrate the journey through the town and plan in detail the final look of the metropolitan area. Tech-vis was also utilised to help collaboratively plan shots with the production team's grips, Steadicam and crane operators. Live-action Techno-crane shots provided the starting point for not one, but two hugely complex CG shots featuring thousands of digital assets from the lowliest kerbs, bollards and bins, to the Lidl superstore itself, surrounding warehouses and mixed residential streets.
"That opening shot was one of the biggest tasks I have ever undertaken for a commercial", comments 2D Artist, Scott Simmonds. "We created the town using a combination of CG, DMPs and projections that covered a large enough area for our camera to travel fluidly from the Lidl store to a suburban house a few miles down the road."
Huggy Stephens, CG Artist, adds that, in addition to this, "Each scene was shot in a different location at a different time of day. So, the challenge lay in executing a dynamic camera move which seamlessly linked the shot film plates." The team had the added benefit of Lidar scans they had taken on set, which assisted with recreating the environment in CG. "Perfecting realism is always a little tricky, but the Lidar scans helped greatly when it came to accurately replicating the locations within Maya."
Another element that required realist attention came in the form of Lidl's attention-grabbing roundels. It was important that they sat within their environment, adding to – not distracting from the narrative through comedic timing and textured aesthetics. "We wanted them to look real", says 2D Artist, Lucas Warren. "They needed to complement each shot, but we also needed to adhere to Lidl's brand colours. To enable this, we created matte passes for each part of every roundel running through the shot, which allowed for greater control later on in grade. I love it when a good plan comes together!"
In keeping with the preceding shots, the spot's closing sequence was the perfect marriage of live action alongside CG elements and digital matte paintings. "Utilising all three of these meant we were able to take our camera from live action, through our CG streets, back to Lidl in the real world and out to a final birdseye view of our CG town", concludes 2D Artist, Tom Clapp. "We had full control of the end frame, which was great as we were able to apply textures and fine detailing on assets such as cars and windows as finishing touches, pushing the realism even further."
Ben Robards agrees: "What started with the frustration of not being able to get the drone footage we hoped for, lead us to the far better and more fulfilling outcome of having the flexibility to block-out buildings, trees and cars, art-direct them and light them precisely as we wanted to; right down to achieving the perfect glint off solar panels and placement of lens-flares around the Logos on the packshot - something that simply wouldn't have been achievable without visual effects."
Credits:
Agency: Karmarama
Executive Creative Director: Nik Studzinski
Creative Director: Luke Ramm, Joe Holt
Creative: Ben Mills, Matt Butterfield
Business Lead: Dave Owen
Account Manager: Amanda Taylor, Alice Barnes, Rhian Turner
Producer: Alessia Small
Production Assistant: Calum Sharp
Production Company: MindsEye
Director: Andrew Gaynord
DOP: Matt Fox
Executive Producer: Debbie Ninnis
Head of Production: Max Yeoman
Producer: Hera King
Production Manager: Ada Almeida
Post-production: Absolute
VFX Supervisor/VFX Lead: Ben Robards
VFX supervisor: James Coore
Colour: Matt Turner
Colour Assist: Juliette Wileman
CG Lead: Matt Burn
CG Artists: Huggy Stephens, Sean Elliot, Chris Homes, Baptiste Jaquemet, Dan Baiton, Keith Rogers, Ollie Grant
Concept Artist/CG Artist: Pedro De La Puente
2D Artists: Lucas Warren, Scott Simmonds, Tom Clapp, Luke Massingberd, Simon Holden, Chris Tobin, DMP Artist: Scott Simmonds, Henrik Holmberg
Edit (previs): Tom Boucher
Graphics (previs): Lawrence Scanlon, Will Smith
Executive Producer: Sally Heath
Producer: Dale Heron